AMERICA SAYS YES!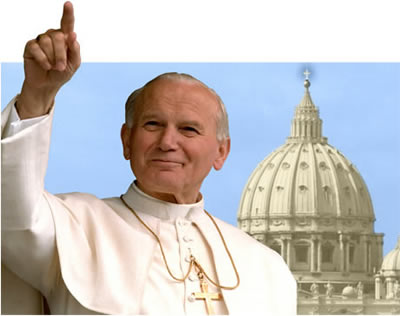 AMERICA SAYS YES! FAITH IN ACTION TODAY

is a new and dynamic program for small groups which assists people of all vocations in living out the call for a New Evangelization.

Following the vision of Blessed John Paul II, the America Says Yes! Program is designed for personal spiritual growth and the renewal of parish life. The books, teaching DVDs and music CDs are presented in a manner which assists participants in expressing their faith as mature Christians in the world around them while they move into action to resolve local problems in practical ways. Discover how you may become a witness to God's love today with your Fiat.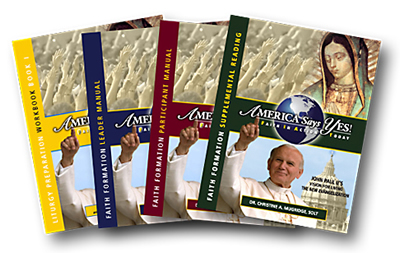 ---
This program is exactly what John Paul II wished to manifest, but did not live to see it fulfilled. It is exactly what the Holy Father wanted for the Church's pastoral work in the New Evangelization. I give you and this important work my blessing ... You must do this, you must do this ... You must do this!

— CARDINAL GEORGES MARIE MARTIN COTTIER, OP
Theologian Emeritus of the Pontifical Household, Vatican City
We are happy to collaborate with the America Says Yes! faith formation program, knowing that it will assist many Catholics in their relationship with Christ and offer them the opportunity to strengthen their faith. This is an important program for the Church.

— MONSIGNOR STEFAN WYLEZEK
Director Emeritus of the John Paul II Foundation, Rome
Rector of the Polish Catholic Mission in England and Wales, Polish Conference of Bishops
We have many prayer groups around the world, especially from the American continent, who will be very pleased to have this program to use within their own communities. I know that it will be quite useful in the New Evangelization and will be happy to share it with our associates internationally.
— MONSIGNOR SLAWOMIR ODER
Postulator for the Cause of Beatification
and Canonization of Pope John Paul II